Hypothetical Storms 2022-23
Winter Storm Aubrey
Winter Storm Aubrey was a catagory 1 storm, with the peak snow totals of 13 inches in Nashville, TN. Other states like Kentucky, Texas, Arkansas, Mississippi, and Ohio only recorded 6-7 inches.
Winter Storm Bailey
Winter Storm Bailey, a catagory 5 storm, heavily impacted the Southeast, Mid-Atlantic, and Northeast. The MOST heavily slammed cities were Nashville, Washington DC, Baltimore, and New York. Nashville, yet again, picks up a record snow total of 29 inches. Baltimore receives 21, and Washington DC recieves 18 inches. The name, bailey, was retired from the future Winter Storm names.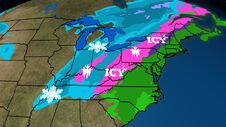 Winter Storm Chase
Yet again, the Southeast, and Mid-West is affected by a major winter storm. This storm was the 3rd major winter storm to affect Tennessee/Kentucky, and the 1st to majorly affect the Mid-West. Middle tennessee, again, picked up the most snow since Bailey. 27 inches. Kentucky picked up 25. Indiana picked up 24 inches. Ohio picked up 21 inches. The storm formed on January 15, 2023, and dissipated on January 19, 2023.