Winter Storm Tomas was a strong winter storm that dropped heavy snow and brought extremely strong winds throughout the Eastern US. It has been regarded as the worst winter storm in over 20 years, drawing many comparisons to the 1993 Storm of the Century.
Forming from an extratropical disturbance in the Gulf of Mexico on March 10th, it organized into a strong extratropical cyclone due to strong baroclinicity. It reached it's initial peak intensity with a minimum pressure of 960 millibars, and winds of 70 mph on March 11th. It moved ashore Florida at that intensity. Strengthening paused for about a day until it moved off the coast of South Carolina late on March 12th, and began to intensify again, reaching it's peak intensity with a minimum pressure of 943 millibars and winds of 115 mph on March 13th. It again moved ashore, in Ocean City, New Jersey and merged with an approaching front the next day, and dissipated in the North Atlantic Ocean on March 15th.
Blizzard warnings were posted 2 days before it even formed, as models had a storm similar to Tomas about a weak in advance, and so many Governors were able to issue states of emergency before snow had even started to fall. Because of this, many lives were prevented from being lost; even though the death toll was over 200, some said that the death toll could have reached up to 500 had the forecasting not have been that good. Donald Trump gave the director of the NWS, Dr. Louis W. Uccellini, the Presidential Medal of Freedom because of his tireless work in preparation of Tomas.
Meteorological Synopsis
Main Article: Meteorological History of Winter Storm Tomas
From early to mid March, an Arctic High began to build over the Midwest and Central U.S, resulting in very cold temperatures. Consequently, an extratropical disturbance formed just off the coast of Mexico. The baroclinicity that spawned the storm helped it organize into a weak extratropical cyclone, with a well defined center, but a pressure of 1010 millibars, on March 10th. After becoming an extratropical cyclone, it began a period of near-rapid deepening, and in 24 hours, had reached a pressure of 986 millibars, a snow rate of an inch per hour, and 1 minute sustained winds of about 35 miles per hour, meeting the National Weather Service's requirements of being called a low-end Category 1 winter storm; operationally, it wasn't called a winter storm until 6 hours later, and as a result, was named Tomas. After that, the arctic high weakened, and warmer temperatures surged to the east (resulting in deadly flash flooding). This caused the storms deepening to pause. The high's weakening trend was short-lived, however, as it strengthened again in about 12 hours, and as a result, the winter storm strengthened again. Rapid deepening ensued, and the storm reached its initial peak intensity of 960 millibars, and 1 minute sustained winds of 70 mph, and a snow-rate of 3 inches per hour on March 12th, and as a result, the NWS classified Tomas as a Category 3 Major Winter Storm.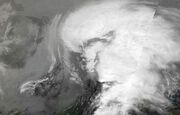 It moved ashore Florida at it's initial peak. It stopped strengthening temporarily, as snow-bands continued to develop. It still produced heavy snow and high winds as it trekked through the Southeast, and it emerged over the North Carolina coast, and got caught in the Gulf Stream. A developing high over the Gulf Stream caused the storm to take a western path, approaching the New Jersey coast. The storm continued to intensify, reaching its peak intensity as a powerful Category 5 Winter Storm, with a pressure of 943 millibars, 1 minute sustained wind speeds of 115 mph, and a snow-rate of 6 inches per hour, on March 13th. The snow-bands contributed heavily to it's intensity, and the front gained abundant moisture, with cloud tops colder than -90 degrees Celsius. At the same time, it began to develop an eye-feature, surrounded by -70 degrees Celsius cloud tops. It then made another landfall in Ocean City, New Jersey. It's strengthening was halted, as it began to interact with an approaching front. It began to weaken, as the front began to absorb the moisture from Tomas, and it was downgraded to below major winter storm status on March 14th. It then merged with the front, and began to move out to sea, dissipating in the North Atlantic Ocean on March 15th.
Preparations
The first model to show Tomas impacting the US was the GFS model, showing a large winter storm moving through the Southeast, and getting caught in the Gulf Stream as it moved north. The ECMWF model was the first to show the storm moving back inland in the Northeast. Soon, the GFS showed the same thing, and the CMC showed Tomas developing. Soon, most long-range models had Tomas developing. As a result, the NWS issued a Winter Storm Watch for the entire East Coast, stating that "a winter storm had the potential to develop in about 3 days." When the disturbance developed, the NWS issued a winter storm warning for the areas that already had a winter storm watch. The governors of the following states issued states of emergency:
New Jersey
North Carolina
South Carolina
Florida
Georgia
Virgina
West Virgina
New York
The National Guard was deployed to create sand dunes because of imminent coastal flooding. Volunteers helped to load sandbags to protect businesses, and many buildings had their windows boarded up.
Evacuations
The evacuations were one of the largest for blizzards in recorded history, with about 200,000 people having evacuated. Traffic jams were recorded for about 4 miles, and many had to simply turn back. Others were caught in the blizzard.
Impact
Throughout America, 266 people were killed due to a combination of storm surge, traffic accidents, hypothermia and falling trees. Flooding resulted in some buildings being very damaged, and very heavy snow resulted in the roofs of houses collapsing in many areas.
New Jersey
Tomas made landfall in New Jersey on March 13th, with winds of 115 mph and a snow-rate of 6 inches per hour.
Aftermath
Donald Trump tweeted: "The preparations were IMMACULATE and similar to that of a hurricane, and it paid off. We thank all officials who helped with the preparations, and we will be giving out awards tomorrow!"
Because of the blizzard, members of congress asked for part of the National Weather Service to split off into a branch called the National Blizzard Center, which would take care of issuing advisories on blizzards. The proposal was accepted, and it took effect on December 1st, 2021.